Endorsed Products
 Nickelodeon's involvement in fishing has brought more excitement to our sport than anything I can remember.  Mark my words, Nick's entry will make fishing popular with kids and kids are the future of fishing.  Kid Casters No Tangle rods make learning to cast easy and fun for both kids and their parents.   When the Teenage Mutant Ninja Turtles show up at events like the Classic, ICAST and the Forrest Wood Cup magic happens…it's like the Beatles coming to town!  I am proud to have Nickelodeon and Kid Casters as my title sponsors and excited to help them help kids and their families get excited about fishing.
I can't imagine fishing out of any other boat!   There are lots of reasons and here are  just a few of them:
No other boat company has done more to support tournament anglers and tournament fishing organizations.  There is no doubt in my mind that neither B.A.S.S. or FLW Outdoors would have even been created or would exist today without the support of Forrest and Nina Wood and Ranger Boats.
Ranger continues to build the best bass boats in the market, bar none.  Rangers are safer, smoother riding, provide a more stable fishing platform and have a higher resale value than any other brand.  Ranger continues to lead the way in innovations that make my job as an angler easier; case in point is the new 2017 Z520c that I will be using on tour this year.  The features are amazing; "space ship" looking consoles that are made to accommodate Garmin electronics with up to a 12″ screen and a larger livewell with a sliding Plexiglas cover that will insure that my catch and my co-angler's catch will never get mixed and also allows me to raise the lid to check on the condition of my catch without having to worry that one will jump out.  The new 2017's have an external connection for charging batteries and a top-side valve that replaces the traditional drain plug.  No more crawling under the back of the boat to remove or install the drain plug!  One of the biggest deals for me is the adjustable driver's seat…a great advancement for those of us who are vertically challenged!
Click on http://www.rangerboats.com  to have a look at this new model and see all the changes for 2017.  I think you will agree with me that this is the finest bass boat ever!  If you are in the market, give my Ranger dealer, Kerry Clark at Jet-A Marina, a call at 270.395.4030, he'll hook you up!
The choice of an outboard engine is extremely important to every tournament angler.  Here's how I made my choice:  During my 33 years in this sport I have been involved with all the major manufacturers and their service crews along with knowing the record of mechanical issues at FLW tournaments.  All the brands are pretty impressive; the improvements in performance and dependability over the last few years are nothing short of astounding.  I gotta tell you, I love the concept of the four stroke outboards.  I love the fact that they are quiet and fuel efficient, but they also have some shortcomings…one brand is really heavy, causing performance problems, the other brand is lighter but making it lighter causes dependability problems.  The biggest issue I have with all the four strokes is maintenance; after 100 hours they have to be taken to the dealer for an oil change (time consuming and expensive).  So, that leaves us with two strokes, most of which are not fuel efficient nor have clean emissions.
One two stroke stands head and shoulders above the rest…the all new EVINRUDE E-TEC G2.  My Evinrude G2 is quiet, fuel efficient, light weight, clean, dependable and goes 500 hours before  any scheduled maintenance.  An Evinrude G2 is ready to go out of the box, no break-in period is  required.  It starts with the push of a button and no other outboard has such quick throttle  response.  Click on http://www.evinrude.com  to see all the advantages of owning an  Evinrude and to find a dealer in your area.  Oh, I other item I almost forgot to  mention…the new Evinrude ETEC G2 is absolutely the best looking outboard on the market and you can design your engine color to match your Ranger!
One thing that all the top tournament angers have in common is having high quality electronics on their boats and knowing how to use them.  No other piece of equipment used in fishing has improved so much in such a short period of time.  Over the last 30 years electronics have gone from " little green box portable flasher depth finders" to multi-function high speed computers.  On the dash of my 2017 Ranger you will find a Garmin GPSMAP 7612xvs Combo. This Garmin unit is a Fishfinder preloaded with LakeVü HD and BlueChart g2 maps and features a 12″ SVGA color display and keyed chartplotter/sonar combo. This high-tech unit combines an advanced 8 pin all-in-one 77/200 kHz HD-ID and Garmin CHIRP technology for a virtual photographic view.  This unit also has a built-in 10 Hz GPS/GLONASS receiver position which updates and heading 10 times per second!   I don't know how I was able to catch anything before I got them; I can't imagine trying to do without them!  Let's start with the GPS map function…This unit has every body of water you could think of preloaded on it and with one foot intervals you won't miss any fish holding structure!  Even on a body of water I have never been on I can venture out with confidence that I have at my fingertips all the knowledge I could have gained in a month of studying the best contour map (all those expensive waterproof maps I purchased over the years are now obsolete).  I can also mark spots where I located fish in practice and return to the exact same spot in the tournament.  On water like Okeechobee or Lake Erie my unit will guide me from the take-off location straight to my starting spot and then tell me how much time I need to allow to make it back for check-in.  It also tells me the water temperature and time of day.  I haven't even scratched the surface on all the capabilities of the Garmin GPSMAP 7612xvs and how it can improve your fish-catching abilities.  Go to http://www.garmin.com/marine to learn more.
I'm proud to represent Hot Springs, AR while traveling the country promoting fishing.  There is no better place to take your family on a fishing vacation (Lake Ouachita and Lake Hamilton) or on a vacation to just get away and enjoy a small town with a big town attitude and attractions.  Hot Springs has hosted more Forrest Wood Cups than any other location and there are tons  of reasons why; not only is the fishing world class but there are endless things to do and see for the entire family.  Go to www.hotsprings.org to get your free vacation guide and open up a whole new world!
I'm sure you have heard many of the greatest anglers talk about the importance of "perfect balance" when it comes to rods and reels.  For me that means the "perfect combination" of a Lew's Custom Lite rod with WINN grips and a Lew's Pro Magnesium reel.  The Lew's  Pro Magnesium reel weighs in  at only 5.3 ounces  but don't be fooled by this reel's weight and size…this baby is strong and durable.  I have often described these reels as "Smooth as Silk" and you can cast them "a country mile"!  I choose the 7.5 to 1 ratio so no bass can run faster than I can keep up with.  The new Lew's Custom Lite rods are exactly that…light.  They are also sensitive and powerful and come with a lifetime guarantee. Click on www.lews.com to see all the models available.  When you want the best rods and reels available – pick up a Lew's!  Of course, I wouldn't put any other monofilament or fluorocarbon line on my Lew's reels except Lew's line; it's strong and dependable.  String up Lew's, you won't be disappointed.
The Premier Mid-Continent Full Service FBO
Located at Northwest Arkansas Regional Airport near Bentonville (home of Walmart), Regional Jet Center is one of the leading fixed base operators (FBO) in the United States. RJC offers aircraft maintenance services, including oil change, tire change, oxygen service, pre-purchase inspection, spark plug cleaning, compression checks and instrument removal and installation.
As a mid-America FBO, the 24/7 Regional Jet Center specializes in quick turns, while offering a full range of aviation services, including maintenance and hangar storage for large wingspan aircraft.
RJC participates in the WingPoints Reward Card program, which rewards pilots, flight schedulers and aircraft owners for fuel purchases at participating Phillips 66 Aviation FBOs.
RockyBrook Limestone Sinkers are an amazing product, made by an amazing company that is owned and operated by an amazing family in Morgantown, West Virginia.  The team in Morgantown consists of Dwight Pauley, his wife Susan, their son Brook (that's his picture above with his lab Rocky) and Brook's wife Stefanie.  All four are accomplished anglers and love to fish.  Brook competed as a co-angler  on the 2012 FLW Tour, made the money in every event, finished the season in 18th place, qualified for the Forrest Wood Cup and finished in 11th place.  Not bad for a young man in his rookie season who had never fished a tournament before!  Brook was my practice partner for every FLW Tour event and was a tremendous asset; I think I learned as much from him during the year as he learned from me.
Why should you use RockyBrook Limestone Sinkers?  The answer is pretty simple…they will help you catch more fish!  Here's why:  Number one on my list is the fact that RockyBrook Sinkers are virtually snag proof; rarely do they hang up, even on a rough, rocky bottom.  Limestone is less dense that tungsten, brass or lead so they bounce over the rocks rather than dropping down in every crack and hanging up.  You'll spend more time with a bait in the water!  Next on my list is the unique sound created by RockyBrook Limestone Sinkers; nothing else duplicates the sound of crawdads moving over the bottom like they do.  Other advantages are their natural appearance and increased lure action.
You can find RockyBrook Sinkers in select sporting goods stores.   You can also get them at your local tackle shop or order them direct on the Internet…just click on rockybrooksinkers.com and start catching more fish, I guarantee it!
Power-Poles were first used in saltwater applications, primarily in Redfish tournaments. Prior to their use Redfish anglers used push poles, both to quietly maneuver their boat on the flats and then to push into the sandy bottom and wrap a rope around the pole and a cleat on the boat to hold it in position. That changed quickly when MinnKota started producing a saltwater version of their "super quiet" electric trolling motor which was not only easier than using a push pole but also freed up your hands for casting. But without the pushpole how could you hold your boat in a fixed position? I've heard it said that necessity is the mother of invention so the folks at Power-Pole can up with the perfect solution, the Power-Pole Shallow Water Anchor. It didn't take long for fresh water tournament anglers to take notes from their saltwater counterparts with a twist…saltwater anglers installed one Power-Pole, most bass anglers install two Power-Poles! In my opinion two is definitely the way to go; with two poles you can hold your boat in a fixed position even in current or under windy conditions. At first it was thought that Power-Poles were awesome for sight fishing but I have found that they have have many other advantages when angling is shallow water. On Kentucky Lake I deploy my  Power-Pole Blades as soon as I hit a fish while flipping buck brush which keeps my Ranger from drifting into the bushes and spooking other fish while I am fighting the bass and then measuring and placing it in the livewell. My Power-Pole Blades have flat out helped me catch more fish! They can help you catch more fish too, click on power-pole.com to see all the models available.
I work as an ambassador for the Comfort Inn in Rocky Mount, Virginia.  If you every travel to High Rock Lake and are looking for a fisherman-friendly place to stay this is the best choice you can make.  The Rocky Mount Comfort Inn has lots of electric hookups, tons of parking for boat trailers, offers free breakfast and has great rates to help you stay on budget. Please tell them Charlie Evans recommended their hotel.  I stay at Comfort Inns during tournaments all across the U.S. and take advantage of the Choice Privileges rewards program to save even more.  No other hotel brand is more fisherman-friendly, many of the locations close to tournament destinations have been designed to accommodate boat and tow vehicles without having to unhook along with providing electricity for battery charging.  The next time you plan a fishing trip click on choicehotels.com to get the best deal available.
I have been privileged to know most of the legends of this sport, the men and women who have worked tirelessly to bring our sport to where it is today.  One of the greatest of those legends is the man at the helm of Zoom Bait Company, Ed Chambers.  I am proud to have called Ed my friend for more than 35 years and counting.  Talk about an American success story, Ed started making baits just to help him catch more bass and then assembled a talented team that has made Zoom the largest soft plastics company in the world.  If its a soft plastic bait you're looking for, nobody does it better than Zoom.   Whether I'm fun fishing or competing in tournaments you can bet I'll be using Zoom.  Zoom soft plastics catch fish!  Click on zoombait.com to get a look at all the latest styles and colors.
Ask most avid bass anglers about the first tournament that B.A.S.S.  founder, Ray Sott held and most can tell you it was the All American held on Beaver Lake in Rogers, Arkansas.  Ask them who won that event and not as many would know that it was won by legendary angler Stan Sloan of Tennessee, fishing with his "home made" jigs that he soon thereafter made available to the public.  Stan was not only  a great angler but was also a great promoter of his Zorro Bait Company, he was readily recognized on the water because of the Zorro cape he wore while fishing.  Our sport lost a shining star in 2008 when Stan passed away after a long battle with cancer.  We almost lost a great bait company after his passing but Lee Hitchcock stepped up to bring Zorro Bait Company back to life.  Zorro produces a good number of bass catching lures but my two favorites were the Zorro Aggravator spinnerbait and the Zorro Booza Bug casting jig. On behalf of thousands of  Aggravator and Booza Bug fans, "Thank You Lee".  To see all their quality products click on stansloanzorrobaitco.com.
A few years ago I filmed a Fishing University episode with Charlie Ingram where he introduced me to Tuf-Line SuperCast.  Man, was I impressed!  I was having lots of problems with the braid I was using:  when flipping the line would twist around the rod tip, when casting the line would hang up on the spool and another big problem was the rough texture of the line that would leave me with a green, beat up thumb after a day of slinging my favorite Zorro Aggravator spinnerbait.  All those problems are eliminated with Tuf-Line SuperCast.  Not being a scientist or a chemist I don't fully understand the process of making Tuf-Line SuperCast so I'll just say "magically" the folks that make Tuf-Line have developed a braid that has a smooth outside like mono that flips without twisting around the rod tip, casts as smooth as mono and feels as smooth as mono on the reel (my right thumb says thanks).
If you are having trouble with your braid you gotta try Tuf-Line SuperCast!  Click on www.tuf-line.com to learn more about this amazing braid; it'll help you drag the big un's out of the toughest cover and put 'em in the boat!
After years of research and field testing there remains no doubt that color and odor play a major role in a bass' reaction to artificial lures.  It's no secret that my favorite lure is a green pumpkin Zoom Trick Worm, but as good as this bait is I wouldn't dream of putting it in the water without using my  Spike-It Chartreuse Garlic Scent Marker on the tip of the tail.
I have caught bass with this Spike-It treated Zoom worm from coast to coast in every season and in all water colors from crystal clear to muddy.  The reason for my confidence in this bait –  bass feed primarily on two things:  bait fish and crawdads.  Have you ever been standing on a dock and look down at the bluegill under the dock?  The one thing you notice right away is the tip of the tail fin…it's chartreuse, the exact same color as the Spike-It Marker!  While bass feed a majority of the time on bait fish their all time favorite is a big juicy crawdad; they'll swim through a thousand shad to get to one crawdad, they "Love 'em"!  That's where the garlic scent comes in, its the perfect crawdad scent imitator.  Between the two (chartreuse and garlic) you can't miss! You've heard it said about the American Express card, but I think it's even more important to a bass angler, the Spike-It Chartreuse Garlic Scent Marker, "Don't leave home without it".  Find Spike-It products at your local tackle shop or order on-line at ispikeit.com.
Take a look at some '70's issues of BassMaster magazine and you can't help but notice the jumpsuits with patches that the Pros wore at tournaments and boat shows.  Today jump suits are out, fishing jerseys are in!  Every tournament angler worth his salt has to have a fishing jersey either to promote his school, his sponsors or just to "look like the Pros".  Ordering a fishing jersey on the Internet can be pretty complicated.  On most sites just filling out the order form requires a degree in computer science and then you get to part where they ask for "some kinda" file for each logo; some even require you to submit all the files on one  "something or another" and then you are asked to be a graphic artist and design the jersey.  On top of all that you have to be aware of all the parameters imposed by your boat company, outboard company and the logo guidelines of the tournament organizations you plan to fish.  If you can accomplish all this then head to your banker to float a loan to pay for 'em.    -OR-     Get in touch with the folks at Hidden Bay Sports, they keep it simple..just give them a list of your sponsors in order of importance starting with your major sponsor and tell them if you are fishing a particular circuit, they'll take it from there and before you can blink an eye you'll receive a proof to review and once you have approved you'll get the best looking, longest lasting fishing jersey at a price that won't break the bank.
Click on hiddenbaysports.com to get started right away.  You won't be sorry you did!
The Alabama Rig has definitely had an impact on our sport, but not without controversy, some love it and others hate it and think it should be banned.  Fisheries experts in several states have written laws restricting its use.  One thing is for certain – under the right circumstances umbrella rigs will flat catch bass.  Just as certain is the fact that with up to five exposed hooks this lure gets hung up a lot and man are they expensive!  The folks at Buckeye Lures produce the finest umbrella rig retriever on the market.  If you fish umbrella rigs (and you should if it is legal in your state) you need this piece of equipment.  Selecting the correct jig head for your swimbaits to use on your rig is extremely important.  I believe most folks use jig heads that are too heavy making the rig hard to throw all day and hard to keep high in the water column when conditions dictate.  The only jig head I use is a 1/8 Buckeye jig head in Pearl White color; the slim arrow shaped head track true when retrieved so there is less chance that the swimbaits will get tangled.  Another one of my favorite Buckeye lures is the Jiggin"Blade – if you fish anywhere there are smallmouth you owe it to yourself to try this killer lure.  Click on  buckeyelures.com to order some and to see all the products offered by Buckeye Lures.
My Ranger's wrap was produced and installed by Wrap Enterprises of Hendersonville, Tennessee.  Dave and Jennifer Clinard and thier team of professionals offer "one stop shopping", they offer design, production and installation of wraps made for in-water use.  Boat wraps not only offer great exposure for your sponsor(s) but have the added value of finish protection for your boat.  Even after a year of bumping against other boats and docks at weigh-ins and bushes and standing timber on the water, my 2014 Ranger looked like it just rolled off the production line when the wrap was removed.   Wrap Enterprises also does wraps for your tow vehicle.  When you decide to wrap your boat and/or your tow vehicle click on wrapent.com to get the best wrap at the best price available.
The Freedom Tackle Rogue Hybrid Jig features a unique head design that minimizes snags. The head also allows the Rogue Hybrid Jig to land in an upright position, and it features a hook attachment that allows the hook to swing free, increasing your bait's action. It also allows you to change out the hook any time you like. A epoxy finish on the head adds durability and a sonic brass echo chamber provides fish attracting sound.  If you use a football head jig you should give the Rogue Hybrid Jig a try…it will help you catch more and bigger fish.  Click on www.freedomlures.com to see all their exciting new products.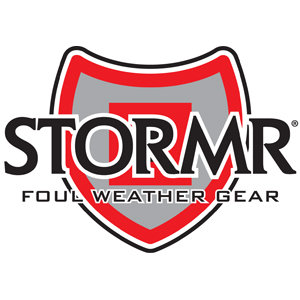 Tournaments go on…rain or shine!  Fishing in bad weather is tough enough without having to worry about staying dry and comfortable.  Over the past 30 years I have tried about every brand of raingear made.  Some were too heavy, some wouldn't hold up for an entire season, some were "dirt ugly" and most LEAKED.  My search is finally over!  The folks at STORMR make good looking, light weight, durable foul weather gear that will absolutely keep you dry.  If you've tried the rest and are ready for the best, go to www.stormr.com and never worry about staying dry and being comfortable in foul weather again.
Your eyes are truly the "Windows to the World" and more valuable to you that silver and gold.  You only get one set and you need to take good  care of them, especially if like me you spend a lot of time on the water.  You need eye protection from wind, rain, direct sunlight and glare off the water.  This is the one area you don't want to take shortcuts or pinch pennies!  Do yourself a big favor – get yourself a pair of brand name high quality polarized sunglasses…your eyes deserve it, period.  For me that means Costa, Costa has a style, frame color and lens color that will be perfect for you.  Go to www.costadelmar.com/sunglassesand check out the best sunglasses on the market.
"Trust" –  the most important component to consider when choosing a boat dealer.  With the advent of the interstate highway system and the Internet you are no longer restricted to the dealer closest to you; go with a dealer you can trust.  For me, the dealer I can trust with the equipment I use to earn a living is Jet-A Marina.  Kerry Clark owns Jet-A Marina in Calvert City, Kentucky on Kentucky Lake which is a full service Ranger/Evinrude dealer.  Consistently one of Ranger's Top 10 dealers  Jet-A Marina is small enough to give you the personal attention you deserve and large enough to provide for all your boating needs.  Click on   jetamarina.com for a tour of facilities and products or give Kerry Clark a call at 270.395.4030.
  The 36 volt MinnKota Fortrex is far superior to any other electric available today.  Its motor is quieter and  its power assist up and down makes it easier to deploy and store.  With 112 pounds of thrust you can operate in swift current and high winds.  I always order my factory rigged Ranger with a recessed foot pedal for better balance.  For more information on the MinnKota Fortrex and all the other models click on http://www.minnkotamotors.com/.